Why do I need an SSL certificate
If you are wondering why you need an SSL certificate or perhaps how you can install one, you have come to the right place. Would you continue on to a website if you received a warning that said the site you were about to enter was not secure? Probably not… In fact, you may even be scared you already downloaded a virus and not want to visit that site again.
That is why SSL certificates are so important for your business. It may seem like a simple domain change of your URL from http: to https: but it involves a lot more than that.
First and foremost, many of our most popular search engines now pre warn or even block sites without an SSL certificate, but what does an SSL certificate really do for your site?
SSL (Secure Sockets Layer) is the standard security technology for establishing an encrypted link between a web server and a browser. This means that the certificate ensures that all data passed between the web server and browsers remain private and secure. Ultimately, if you are collecting any form of data on your site – even an email address, this security feature is important to both search engines and your customers.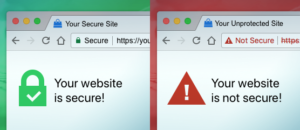 If a secure connection cannot be established, your customer's information will not be digitally connected to a cryptographic key ensuring it is secure from cybercriminals. When SSL certificates are active, your customers will then see visuals in the URL bar like a lock icon that tells them your site is safe and well-trusted encryption is used.
Unfortunately, there are a lot of businesses losing customers before they even get a chance to visit their site due to this extremely important feature. To have an SSL certificate installed on your site, give us a call and we can walk you through the best options for your business.